The beginning and the end of décor sheet manufacturing is
Different when SHINHO makes it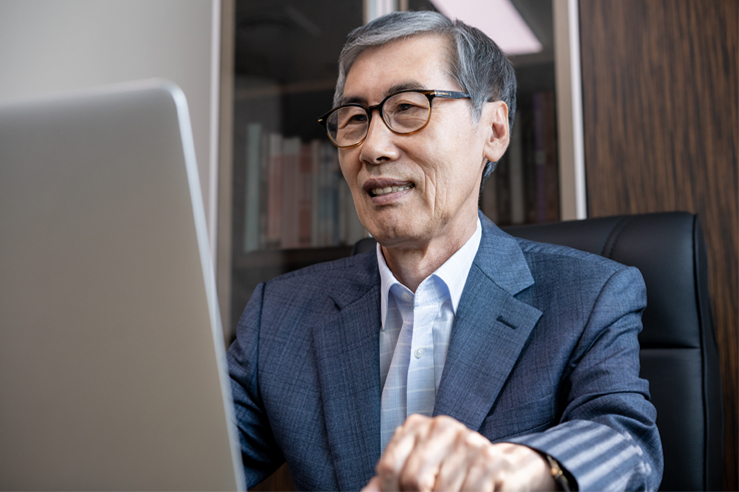 CEO Greetings
SHINHO INDUSTRY CORPORATION, Founded in 2000, is the largest producer of PVC / PP sheet and film.
SHINHO INDUSTRY produces clear sheet (wear layer), Pigmented sheet for printing used in LVT tile, Decoration sheet, and Flooring equipped with Gravure Printing Machine, Laminated Embossing Machine and Coating Facilities. We produce and export high quality Decoration film to European Market, North American Market as well as Domestic Market.
SHINHO INDUSTRY receives much recognition in both the domestic and the foreign markets for its quality, function and design by introducing an advanced sensible decoration sheet that leads to a novel trend.
From the beginning to the end of the decoration sheet manufacturing,
It's new, when SHINHO INDUSTRY makes it.
IVP system (Integrated Vertical Production System)
SHINHO INDUSTRY is equipped with a calender line which produces clear sheet, sheet for printing, underlayer sheet, balance sheet used in LVT tile, decoration sheet and flooring; it also holds a consistent system to produce finished product of decoration sheet and flooring through gravure printing machine, pearl coater, laminating machine, and UV coating machine. 

From semi-finished products to finished products, with the best production facilities and thorough quality control, SHINHO INDUSTRY meets various needs of customers in a timely manner.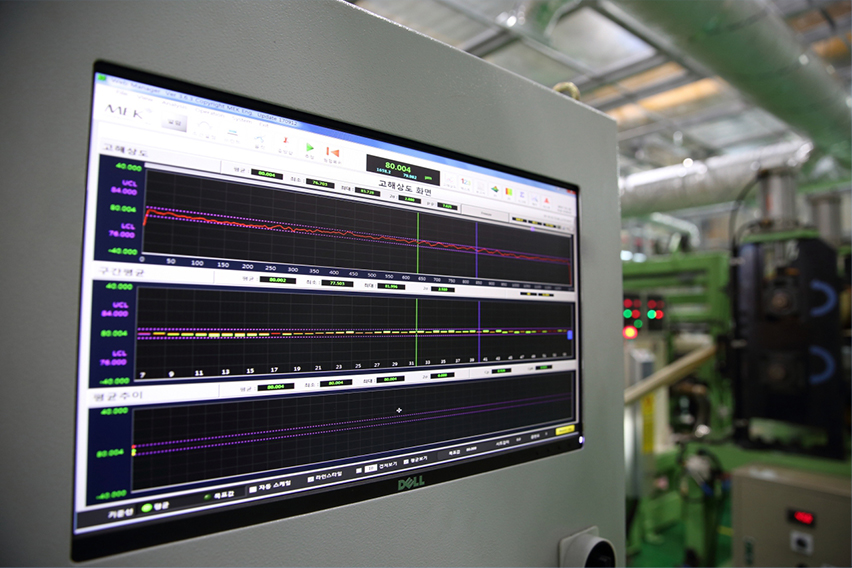 History of Shinho Industry Corporation.
SHINHO TEAM INTRODUCTION
Within SHINHO organic organization, professional teams adhere to
SHINHO principles of action to together build Global No.1 SHINHO
PRINCIPLES
3 CORE VALUES and 9 SHINHO WAYS are firm beliefs
established with clear principles to realize SHINHO's mission and vision
3 SHINHO CORE VALUES

CORE VALUES
THE 9 SHINHO WAYS
RELIABILITY
Customer-oriented

All tasks begin with a clear understanding of the final purpose, 'Why do it?' and 'Where to use it?' and the establishment of that purpose puts the customer's perspective first. We understand the needs of our customers accurately, and respond quickly and sincerely and sincere manner. We earn trust by giving customers more satisfaction than expected.

Quality Standard

This clearly defines the meaning and core quality of the work. We conduct every little thing with all our best. We act one more step than our goal with our own uncompromising work quality level. We never pass even a minor defect onto the next level.

Obtaining Trust

We always respect, care, and have open communication with each other. We give alternatives over criticism, encouragement over rebuke, and discussion above command. We trust the people around us, and we gain trust. We create "alternative relationships" with our internal and external customers
POSSIBILITY
Bold Mission

We present a bold mission of producing great results, and lead our colleagues in that direction. We aim to redefine existing industry rules and create new markets for our customers.

Innovation

We always look for ideas from within and outside. We shift our ideas away from practice/fixed ideas, look for opportunities in difficulties, and encourage the organization to experiment. We jump into innovation without fear and achieve it to the end.

Craftsmanship

We think there is no end to learning, as we always find ways to develop ourselves, and try to be the best craftsmen in our field. Through this, we not only seek to develop 'my' own but also the development of the organization. We nurture future leaders to replace 'I' and do our best as coaches
DEDICATION
Ownership Mindset

We are leaders. We never say, "It's not my job," but think of responsibility rather than authority, and act as leaders of the organization up the ladder. We don't spend money on things that don't matter to our customers, and we do more with limited resources. We do not sacrifice long-term "value" for short-term performance.

Importance of Site

The answer is not on the desk but on the site. We take the lead in the details of front-line work and respect the field staff as the main characters. We dig deep in the field and seize opportunities to solve problems

Importance of Action

Quickness/precision/Confirmation is life. He who is absorbed in his thoughts makes the right decision, and focuses on the action right away. Most decisions and actions are reversible, so they are moved into action first. We do not miss the first opportunities. We value calculated risk reduction, practicing from 'I', 'Our team', and from 'Now'
AWARDS
2014

12.05Awarded 50 million dollar Export Tower (Korea Trade Association)

2013

09.10Awarded Export Destination (Chungcheongnam-do)

2012

12.05Awarded 30 million dollar Export Tower (Korea Trade Association)

2011

11.30Awarded 20 million dollar Export Tower (Korea Trade Association)

2010

11.30Awarded 10 million dollar Export Tower (Korea Trade Association)

11.30Received commendation of Export merit (Minister of Knowledge Economy)

2006

11.30Received commendation of Export merit (Prime Minister, Minister of Commerce)

11.30Awarded five million Export Tower (Korea Trade Association)

2005

11.30Awarded three million Export Tower (Korea Trade Association)

2004

11.26Received commendation of Export merit (Minister of commerce)

11.26Awarded 50 million dollar Export Tower (Korea Trade Association)
CERTIFICATIONS
2019

08.21Roll Sheet KS Certification

2018

11.17Acquired KS I ISO 14001:2015/ISO 14001: 2015 (Korea Standards Association)

2016

10.07Designated as a Chungnam-type Strong Small Business (Chungcheongnam-do)

2011

07.07Selected as INNO-BIZ company (Daejeon Chungnam Small and Medium Business Administration)

2008

07.23Acquired KS Q ISO 9001 : 2009 : 2008 (Korea Standards Association)

2007

08.30Designated as Small and Medium-sized enterprise for innovation.(INNI-BIZ) (Director of the Chungnam Provibcial Small and Medium Business Administration, Daejeon)

07.02Designated as a Promising Medium and small business (Chungcheongnamdo)

2006

01.31Selected as a Family Company (Middle and small Business Bank)

2004

06.28Designated as a superior technology company (Technology Credit Guarantee Fund)

2003

07.15Designated as Small and Medium-sized promising export Enterprises (Chungnam Small and Medium Enterprise Export Support Center)

04.16Selected as a business enterprise for Small and Medium export corporation (Chungcheongnamdo)

04.03Registered as q venture company (Korea Venture Capital Association)

2002

12.12Registered as a Foreign Investment Enterprise (Korea – Japan Joint Venture)

11.06Registration of Trademark (ORCHID Floor TILE No.19 Registration No/ 0534449)

02.20Registration of Trademark (ORCHIDTILE, Orchid tile 19th class, Registration No. 0512863)

2001

12.29Registration of Trademark (GRADATIONWOOD, Graded wood, No.19 Registration No. 0509536)

11.27Registration of Trademark (ECOTECTURE, Ecotech, No 19 Registration, No. 0507447)

09.26Registration of design (Registration of 4 basic design for Orchid Tile. No. 0284245)

03.02Registered Trade Business (No. 11878450, Korea International Trade Association)